Did you know October is International Dinosaur Month? There are so many fascinating things about dinosaurs! While we waited for friends we looked through some BIG books about these BIG creatures!
There are SO MANY great books about dinosaurs, so I picked out a few fun ones for us to share:

Gigantic: How big were the dinosaurs?
by Patrick O'Brien - REALLY big!!!!

Skippyjon Jones and the Big Bones
by Judith Schachner - we used the copy on
We Give Books
. (To view books on We Give Book, create a free account, and you will be helping give books to children across the world every time you read one!)
Dinosaur Cousins
by Bernard Most - many dinosaurs seem like familiar animals we know today!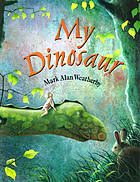 My Dinosaur
by Mark Alan Weatherby

I wonder why: Dinosaurs
by Judy Allen and Tudor Humphries - we read a few questions and answers, but really I think it just made us think of more things we wanted to know about dinosaurs!
The new songs and videos we watched today:
"The More We Get Together" by Miss Nina
- we were doing such a great job singing, that I thought it would be fun to add more hand motions! Thanks Miss Nina!
Skippyjon Jones and the Big Bones
webisode
"We are the dinosaurs" by Laurie Berkner
- what a fun song to help us move like a dinosaur
For more dinosaur fun, check out some ideas from the blog
Rue lala
!