I am so excited to welcome my "little Eagles" back to Meadow Wood for Toddler Story Time in the library! As everyone came in, we enjoyed a couple of fun Chicka Chicka Boom Boom activities. Today the books we read all had to do with learning at school: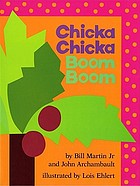 Chicka Chicka Boom Boom by Bill Martin, Jr - read by our new principal Ms. Pamela Redd

alphabet adventures by Audrey Wood
Use your magnet letters at home to practice your ABCs and making words!

Z is for Moose by Kelly Bingham (a Texas 2x2 2013-2014 Book)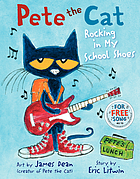 Pete the Cat: Rocking in my school shoes by Eric Litwin
For more Pete the Cat fun visit HCKids - Pete the Cat website to listen to songs and download more fun printable activities!
Songs we sang today:
"This is the way we go to school" by Miss Nina
"The more we get together" by Kids' Songs
"ABC - Choo Choo Soul" by Disney Junior
"Rocking in my school shoes" by Eric Litwin (see top of post)
"Goodbye song" from "Out of the Box"
See you next time!