Today is Constitution Day, which is a celebration of the day the United States Constitution was signed in 1787. Find out more about our founding fathers and the work they did to form our great country at ConstitutionDay.com.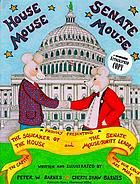 Our third graders enjoyed hearing the story
House Mouse Senate Mouse
by Peter W. & Cheryl Shaw Barnes read by a local attorney,
Elizabeth Lockett with the Houston Bar Association. The Houston Bar Association donated the book to the MWE Library for us to read throughout the year to help our students learn more about our government.
Our Meadow Wood students did a great job listening to the story and asking thoughtful questions. Ms. Lockett complimented them on their good behavior and responses. Just one more reason for us to be so proud of our Meadow Wood students!