It was so nice to see so many new and familiar faces for Toddler Story Time today! We had lots of fun reading, singing, and creating with dots and circles.
Books we read today: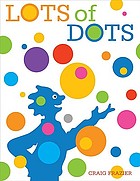 Lots of Dots by Craig Frazier - we learned that there are dots everywhere! See how many you can find all around you!

Skippyjon Jones shape up by Judith Byron Schachner - you can read it again on We Give Books (click here).
Press Here by Herve Tullet - our very favorite one of the day!
Songs we learned:
From Miss Nina:
"The more we get together"
"There's a little wheel a-turning in my heart"
Other songs we sang:
"Three Primary Colors" by OK Go (on Sesame Street)
"Goodbye Song" from Out of the Box
Then everyone was invited to design their own dot with circle stickers. Here is one proud artist's finished picture:
*bonus: Parents, you can see your child's creation come to life in 3D by downloading the iOS app colAR and using it to scan his/her picture. Have fun!