Our Pirates and Princesses
Today we explored our imaginative sides by finding out what it takes to be both a PIRATE and a PRINCESS by reading these books: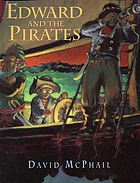 Edward and the Pirates by David McPhail

Pirates Guide to Recess by James Preller
Princess Penelope by Todd Mack

Do Princesses wear hiking boots? by Carmela LaVigna Coyle
Then we all "walked the plank" to create our
PIRATE
or
PRINCESS
hat to wear home while listening to Sofia the First sing "I'm not ready to be a princess." We left the library ready to take on the world with our imagination!