Today felt like a dreamy day... We just finished Spring Break and weather outside is just about perfect! Plus everyone is growing up so fast! We are learning about so many things!
Who knows what we will be when we are really big!
Stories we shared: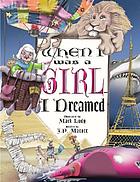 When I was a girl... I dreamed (Read to Me website)

One world, One Day by Barbara Kerley

When I grow up by Al Yankovic
Dreams by Ezra Jack Keats
Songs:
A dream is a wish your heart makes from Disney's Cinderella
One thing I hope every one of my little friends will do when they grow up is KEEP READING great books!